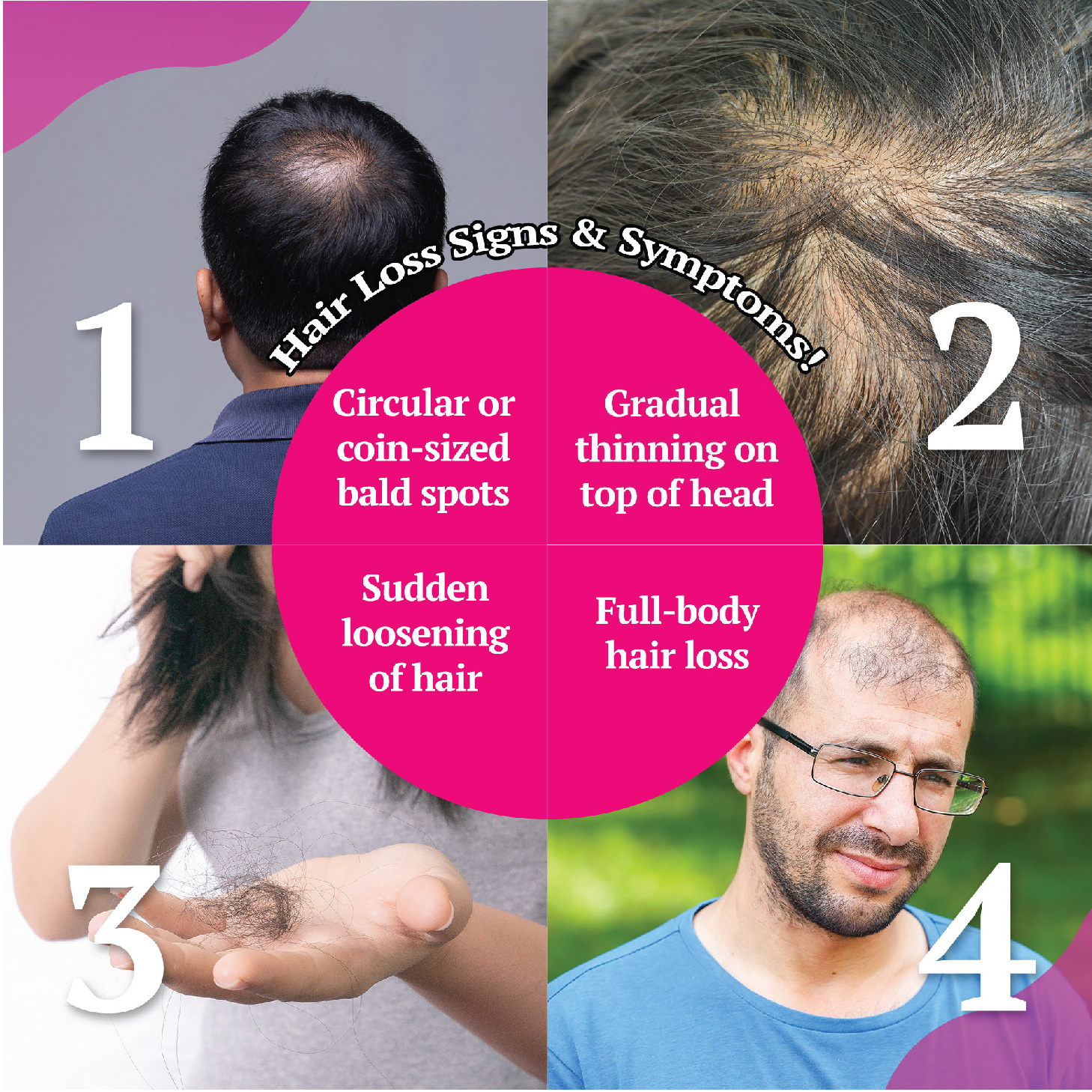 Pay attention to this if you want to look good.
😱😱Hair loss is a serious problem which may affect your scalp or even your whole body.
This condition can be caused by hormonal changes, genetic disorder, stress, side effect of certain drugs, excessive hair styling and radiation therapy. Bear in mind that EVERYONE will face this hair problem at one point or another and is common to be found among males.
🤔So how do you know you are actually suffering from hair loss? Well, there are 4 types of hair loss symptoms that you should be aware of:
1. Circular or coin-sized bald spots – this type of hair loss will affect not only your scalp, but occasionally also on your eyebrows or beards. Some people will also experience itchiness or pain on the affected area.
2. Gradual thinning on top of head – this is the most common hair loss problem due to their age. For men, their hair will start to recede from the forehead in a line that resembles the letter whereas for women, they will retain the hairline on the forehead but experience thinning or parting in the middle of the hair.
3. Sudden loosening of hair – this type of hair loss is normally caused by emotional problem such as stress. Strands of hairs will fall out when combing or during shampooing and it may cause hair thinning.
4. Full-body hair loss – this type of hair loss is due to radiation therapy such as chemotherapy for cancer. However, the hair is able to grow back after a certain period.
Hair loss can be caused by many factors.
Some hair loss problem is temporary, but some is permanent. Before you decide to pursue any hair loss treatment, we strongly recommend you to consult a hair and scalp specialist and get consultation from our hair professionals. You would not want to miss the opportunity to rectify your hair problem before it is too late!
😉LITTLE TREATMENT MATTERS MOST
Customer satisfaction remains our highest priority
• Professional consultation (FREE)
• One stop hair care product (up to 500 types)
• We help to keep track of your hair condition
• Served by well-trained staffs
Book now: https://www.haircare.com.my/